Any picture I post that is not a download--->


UNLESS YOU HAVE MY FULL PERMISSION! (THIS GOES FOR ALL MY PICTURES PLEASE RESPECT WHAT I AM SAYING)

I choose Elsa as my favorite Disney royal. Not only is she the first Disney queen, can do magic, is voiced by Idina Menzel, and has the best dress I have ever seen. It's because I'm so much like Elsa. When I was young, I cared about what people thought of the real me so I had to conceal that self of me. When I finally decided to be the real me, I felt just like Elsa, free!

<-

<-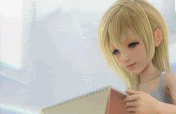 Yes this is my family in real life

for realz.




= SISTERS 4 EVER! Please visit my big sisters page


dramakid99.deviantart.com/art/…